1822 Main Street, Eau Claire Wisconsin 54701
From Hastings Way in Eau Claire, turn west on Main St. towards downtown. At first intersection, turn right and find parking.

View Floor Plan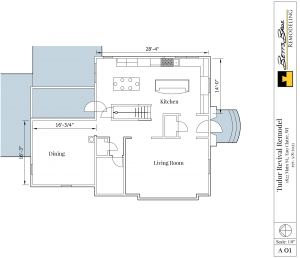 Home Highlights
This remodeled home will be open for in person viewing June 11 & 12.

Welcome to Betts Bros. Remodeling's 2022 Parade of Homes remodel. You have driven by this home for years, come inside and take a look at what they have done.
This Tudor Revival is one of the unique stone houses of Eau Claire. It was originally built in 1938 for Alfred H. Regli, who lived in it until 1956. Our Savior's Lutheran Church owned it from 1956-1979 and used it as their parsonage. It was purchased by the current owners in 1980.
The goal of this project was to create a space where the owners could host both "game day" and formal dinner parties while maintaining the unique character of the home. To accomplish this, the back kitchen and front dining were combined into a unified space, the stairway was opened up to connect the living room with the kitchen, and the formal dining room was moved to the back of the home. A new kitchen and dining room later, I think you will agree that Betts Bros. accomplished their goals. The kitchen boasts beautiful custom cabinetry and hand-applied plaster textures. A new Wolf range, Kohler Prolific sink system, and a host of other amenities complete this "cook's kitchen."
Please stop out on the first weekend of the Parade of Homes, and see what Betts Bros. Remodeling can do for you.
Features

Unique cherry cabinetry
Hand-applied plaster textures
Custom newels and balustrade
Kohler Prolific sink
Wolf gas range
Birch hardwood flooring
Square Feet: 430
Bedrooms: N/A
Bathrooms: N/A
Category: IV - Remodeled Homes
For Sale: No